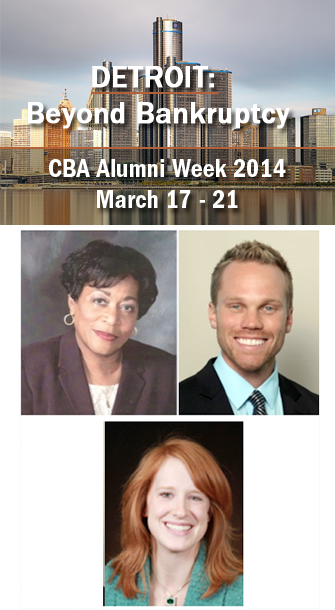 The UDM College of Business Administration Alumni Board is once again hosting
Alumni Week
with alumni and alumnae of the College providing guest lectures in many business classes.
Keynote Event: Tuesday, March 18
Noon - Lunch, President's Dining Room
1 p.m. - Panel Discussion on Detroit, Student Center, Fountain Lounge
The keynote event featured a panel discussion on the future of our city, "Detroit: Beyond Bankruptcy." See video presentation online. The panel consisted of three distinguished alums:
Louise Guyton, '86, who served Comerica Bank for more than 40 years, most recently as Vice President for Public Affairs, until her retirement last year, is the Founder of the Greater Works Foundation and represented the corporate perspective.
Trevor Pawl, MBA '11, is Managing Director of the Pure Michigan Business Connect in the Michigan Economic Development Corporation, recently praised by Governor Snyder in his State of the State Address. Mr. Pawl represented the government perspective.
Emily Doerr, MBA '12, is the Founder of Hostel Detroit and Director of Community and Economic Development for the City of Oak Park. Ms. Doerr was recently recognized as one of the "Twenty in Their Twenties" by Crain's Detroit Business; she represented the community development perspective.
Proudly sponsored by: