The history of the College of Business Administration dates more than 100 years. In 1880, a Commerce Department began offering courses in business. And on Oct. 2, 1916, the Evening School of Commerce and Finance was established to offer degree programs in business.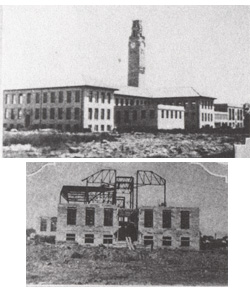 The School of Commerce and Finance admitted women right from the start in 1916. The School grew quickly from a handful of students in 1916 to 821 students in 1921-1922. And in 1922, the Commerce and Finance Day College opened and was organized on a 4-year university basis. Classes for the 45 freshmen enrolled in the day division were held in Colford Hall, an imposing 19th century stone mansion on Jefferson Ave.
By this time, the University was planning expansion, and Fr. McNichols, President of the University, with permission from the Board of Trustees, purchased land by 6 Mile Road. On Oct. 9, 1927, the grounds and buildings of the new campus were toured and formally blessed by Bishop Gallagher. The new 18-classroom Commerce and Finance building was built between June 1926 and June 1927. It housed the largest auditorium on the new campus.
In 1948, an MBA program was officially introduced, and in 1949, the College of Commerce and Finance became accredited by AACSB. In 1963, three years after AACSB embarked upon the accreditation of MBA programs, the University's MBA program was in the first group to be accredited. In 1967, the name of the College of Commerce and Finance was changed to the College of Business and Administration, and then in 1990 the name was changed to the College of Business Administration. That same year, our spiritual tradition was enriched by becoming both Jesuit and Mercy, as our University proudly took the name by which we are known today, Detroit Mercy. In the ensuing years, we've adapted to the digital revolution, with online and hybrid courses, and we're proud to be an integral part of Detroit's renaissance.
In 2016-2017, the College celebrated its centennial anniversary, first by hosting Celebrate Spirit, then with a gala dinner and the grand opening of the Center for Social Entrepreneurship, followed by the Business Leadership Awards ceremony, a centennial basketball game honoring student-athletes, and an Alumni Week keynote event reviewing 100 years of business trends. Today, we are now at the forefront of business education, with rankings among the nation's highest for graduate and undergraduate Management.
* Parts of this history were taken from 75 Years of Quality Business Education 1916-1991 by Reverend Herman J. Muller, S.J.