College of Business Administration
Welcome to the College of Business Administration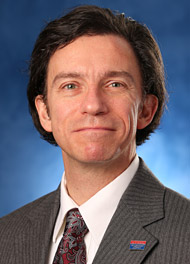 Welcome to the College of Business Administration at the University of Detroit Mercy.  We are a diverse community of scholars working in the Jesuit and Mercy traditions, with dedication to both academic excellence and social responsibility.  This quality is achieved by our outstanding faculty providing first-rate courses and curricula.
Indeed, our graduate and undergraduate programs have been accredited since 1949 by the Association to Advance Collegiate Schools of Business (AACSB) International, which places us among the top 5 percent of business schools in the world.  U.S. News & World Report has ranked our undergraduate management program 10th in the nation.  And our MBA program was recently ranked among the top 30 in the world for its emphasis on sustainability by Corporate Knights magazine.  That world-class MBA degree can be earned in the traditional, part-time format at either of two campuses while working full-time, or through our accelerated 5-year BS/MBA program, which qualified students enter right from high school. 
But we have never been content with intellectual development alone.  Since its inception nearly a century ago, the College of Business Administration has promoted social responsibility in addition to academic performance.  All of our students--graduate and undergraduate alike — study business ethics, both in stand-alone courses and as themes woven throughout the curriculum.  And all of our students undertake service-learning, through which they utilize the skills developed in the classroom to benefit the community.  Our accounting majors, for example, provide free income tax preparation for neighborhood residents, thereby serving the community while practicing their skills. 
Our alumni and alumnae populate the board rooms and executive offices of companies throughout the Midwest, the US, and the world.  They serve as a valuable network of professional contacts, providing internships, mentoring, and career opportunities for our students. 
I invite you to visit our beautiful Commerce & Finance Building on the McNichols campus and find out more about us.  Indeed, qualified high school students can try out selected business courses for free through our new dual enrollment program, and get a head start by earning college credit early.  Feel free to contact us for more information!
Joseph G. Eisenhauer, Ph.D. 
Dean of the College of Business Administration