College of Business Administration
#19

Accounting program nationally ranked based on 2016 cpa exam pass rates
Our renowned business programs have remained fully accredited by the Association to Advance Collegiate Schools of Business for more than 65 years. AACSB accreditation places us among the top 5% of business schools in the world, and we are the only private university in Michigan to earn this distinction.
In addition, Detroit Mercy's College of Business Administration has achieved numerous state-wide, national, and international rankings.
See our College's State, National, and International Rankings
 

Rankings

* 2016: 10

th

Best Undergraduate Management Program in the U.S.

                        U.S. News & World Report

 * 2016: Top 50 Best Value Dual MBA/Health Management Degrees in the U.S.

                        Value Colleges

 * 2016: Best Private Business School in Michigan & #2 Business School Overall in Michigan

                        College Choice

 * 2016: 5th Place in the World, CME Group Trading Challenge

                        Chicago Mercantile Exchange

 * 2016: 19th Best CPA Pass Rate in the Nation, Programs of 10-20 First-time Candidates

                        National Association of State Boards of Accountancy

* 2017: 16th Best MBA for Management in the U.S.

                        U.S. News & World Report
Academic Programs
Diverse choices for programs and majors, with concentration in one of many areas.
Center for Social Entrepreneurship

Center for Social Entrepreneurship

Institute for North Korean Studies

Institute for North Korean Studies

The first research center in the United States or Europe focused exclusively on North Korea.

Learn more about INKS

Under the Mike-roscope

Under the Mike-roscope

A newsletter discussing current marketing and advertising¹s bends, trends & ends produced by Marketing Professor Michael Bernacchi, Ph.D., J.D.

Link to the online newsletter
Current Students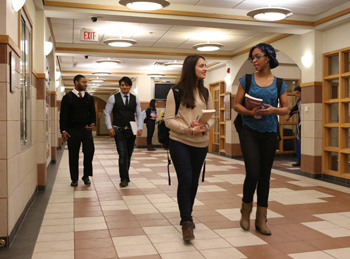 Faculty and Staff Bios