Four Detroit Mercy students place in top 25 in worldwide investing competition
Share:
Under the guidance of Professor of Finance Omid Sabbaghi, four Detroit Mercy business majors placed among the top 25 students from around the world in the ETF Global Portfolio Challenge in December. 
Jacob Cichon, Liam Spratt, David Hershman and Aidan Spratt, competing against students from 425 schools in 41 countries, placed 14th, 20th, 21st and 25th in the world, respectively, with investment portfolios returning 11.54%, 10.64%, 10.63% and 9.89%, respectively.  No other university had more than two winners among the top 25. 
In addition, Detroit Mercy students Emmanuel Myk-Ojomolade and Austin Davis made the leader board for more than half of the 11 weeks of the competition. The complete list of winners is available at https://etfportfoliochallenge.com/#leaders. 
 
This marks the third time Detroit Mercy has had winners among the world's top 25 performers in this competition. There were four winners in 2018 and three in 2019.
In addition to participating in the ETF Global Portfolio Challenge, these students and others also managed a portfolio of real investments, the Mercy and Jesuit Student Investment Capital (Majestic) Fund, published the investment newsletter The Long Strategy, and gave presentations to the Investment Advisory Council, made up of industry professionals. Their initiatives are part of the College of Business Administration's Charlton Center for Responsible Investing, which also runs a speaker series featuring nationally known presenters.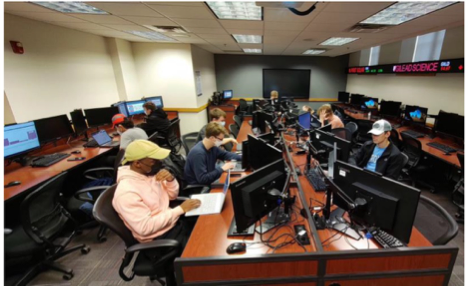 Charlton Center students manage the Majestic Fund in the Financial Markets Lab
 
 
 
 
 
 
 
 
 
 
 
Share: