Celebration of Fr. Jerry Cavanagh, S.J., on Saturday, June 3, 2023
Share:

Celebration of Fr. Jerry Cavanagh, S.J.
Saturday, June 3, 2023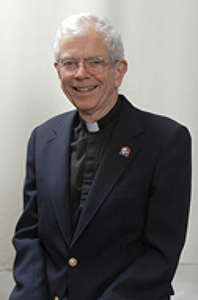 On Saturday, June 3, 2023, the University of Detroit Mercy will celebrate the unparalleled career of Fr. Jerry Cavanagh, S.J., world-renowned as a founder of the field of Business Ethics. 
The evening begins with Mass at 5 p.m. in the St. Ignatius Chapel, followed by cocktails and dinner at 6 p.m. in the Fitness Center on the McNichols Campus.
The evening will feature commemorative gifts, a silent auction (see auction items below), photos and videos of Fr. Cavanagh, and some very special announcements.  Items to be auctioned include books by Fr. Cavanagh, original artwork by a world-famous artist, wine, theatre tickets, sports packages, golf outings, and more.  All ticket holders will be invited to share stories, memories, and photos of Fr. Cavanagh with each other in a special tribute book, and all net proceeds will support our new Cavanagh Fund for Ethical Solutions to Social Problems—a project that Fr. Cavanagh himself proposed. Read more about Fr. Cavanagh's life.
We look forward to remembering and celebrating this remarkable priest, professor, scholar, colleague, and friend with you!
Collected Works
Copies of a new book, Business Ethics and Social Responsibility: Essential Works of Fr. Gerald F. Cavanagh, S.J. are available from the publisher, Ethics International Press.
Thank you Sponsors!
Gold Sponsor
Eric Hespenheide
Silver Sponsors
Mark Bealin
Gary and Debby Priestap
Brad Simmons
College of Business Administration Board of Advisors
Bronze Sponsors
Joseph Berkowski and Ina Fernandez
Relatives of Fr. Jerry Cavanagh
Norm and Cathy Schmitt
Dave Stangis
The Thiele and Soave Family
Organizational & Silent Auction Donors
Absopure Water
Alliance Catholic Credit Union
Detroit Mercy Theatre Company 
Detroit Red Wings
The Jesuit Community at Detroit Mercy
Mike Arkison
 

Auction Items

Absopure Water—Home Delivery

 

---

Alliance Catholic Credit Union—Gift Basket (Value $275)



 

---

 

---

Detroit Mercy Theatre Company—4 season passes for opening night performances of the 53rd season (Value $320)

 

---

Detroit Red Wings—Hockey Tickets in luxury suites: 2 tickets in Legends Club (Value $800)

 4 tickets in Rehmann Club for any regular season home game (Value $1,600)

 

---

Mike Arkison—Wine Basket (Value 654)

2018 Darioush Napa Valley Chardonnay 750 ml

2021 Far Niente Napa Valley Chardonnay 750 ml

2020 Cayous Vineyards Napa Valley Cabernet Sauvignon 750 ml

 2018 Domaine Serene Evenstad Reserve, Willamette Valley Pinot Noir 750 ml

Veuve Clicquot Champagne 750 ml

2017 Vineyard 29 Estate Cabernet Sauvignon 750 ml

---

Heritage Optical-- gift certificate (Value $400)

 

---

Johnson Recreation Center, University of Detroit Jesuit High School—
Yoga classes, exercise classes, and ballroom dancing lessons

 

---

Manresa Jesuit Retreat House—Retreat Package (value $325) 

 

 

---

Sisters of Mercy—original artwork by Sr. Marie Henderson, RSM (value $275)

 

---

 Titan Athletics—Men's Basketball Tickets: Seaon opener or Oakland rivalry game (Value $300)

---

Collection of books by Gerald F. Cavanagh: Ethics of Free Enterprise: Values in Jesuit Education, American Business Values, Ethical Dilemma in the Modern Corporation, The Businessperson n Search of Value, Blacks in the Industrial World.

---

Copy of American Business Values in Transition by Gerald F. Cavanagh.

---

Special Gift Commemorative Medallions
Share: